Preloved, vintage, upcycled, and handmade - clothing, shoes, jewelry, and accessories!
All stallholders are independent, so no two events are the same. There are people clearing out their wardrobe to make a few dollars, right through to the small business's who thrift for a living.
GOLD COIN ENTRY - Cashless options available.
If you'd like more information on how to be involved, head to our website
HERE.
Event Dates: New Plymouth, Bell Block Hall, 10am-2pm.
May 29th 2022
August 28th 2022
November 27 2022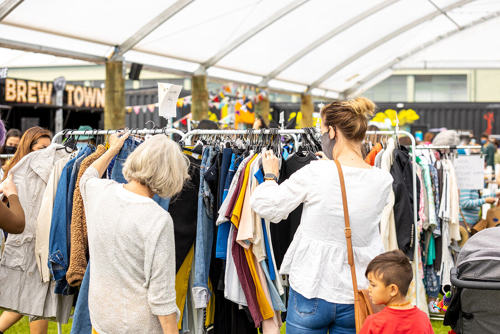 Facts about Textile Waste in Aotearoa New Zealand
Over 380,000 tonnes of fibre, fabric and textile products are imported into the country every year with 217, 312 tonnes or 80% ending up in local landfills.
Due to its energy-intensive manufacturing processes, fashion contributes 10% of global greenhouse gas emissions, and it can require more than 2,500 litres of water to produce a single cotton t-shirt
There are currently very few textile recycling options in Aotearoa - landfill is the main destination for end-of-life textiles.
Before ending up in landfills, nearly 7000 tonnes per year are channelled via second-hand stores and charities and into the reuse cycle. This volume excludes the proportion of donated apparel that is not of sufficient quality and condition to be resold (typically 50% of the donated volume).
Sending clothing to the landfill caused the release of greenhouse gases as they decompose. While the rate of emissions varies by geography (and level of research), research shows that after food waste, textiles are a hotspot for emissions in landfill.
Research suggests that the global clothing industry is currently 97% linear i.e. 97% of materials used as input are virgin, and only 12% of clothing at end of life is recycled in any form. Only 1% of clothing is recycled back into clothing.
What can you do?
Reduce:
Slow down the fast fashion trend by re-thinking the number of items you buy
Ask yourself whether the clothing items are sustainable and long lasting. For great local ideas check out Buy Local, Natural & Quality — Sustainable Taranaki
Where practical, purchase good quality clothing that will last or can be easily repaired.
Choose materials that are organic, repurposed, recycled or recyclable.
Share or swap clothing with friends
Purchase pre-loved clothing from secondhand clothing stores. Check out Sustainable Taranaki's Second-hand Clothing Directory
 Repair
Reuse:
Worn or damaged clothing and sheets can be used around the house for dusters or cleaning cloths
Old clothing can be reused to make covers for quilts and cushions, pet bedding, or other upcycling projects
Use scraps of natural fibre clothing as garden ties
If you've got the space, store the item - as fashion trends do come round again
Donate good quality and clean clothing to second hand shops
Share or swap clothing with friends and family
Sell your used clothing online, at garage sales or local markets
If you have larger quantities of clean white cotton, white toweling, or white flannelette, these can be donated at Save Mart New Plymouth for on-selling as rags.
Recycle:
Clothing Bins – Clothing deposited into clothing bins is picked up, sorted, and separated into good quality clothing and shoes which can be reused or worn. Damaged clothing is further sorted into grades to make industrial wiping cloths, blankets, furniture blankets, mattresses, car insulation, and furniture padding.
Dispose
Clothing made from pure, natural fibres (e.g., cotton, bamboo, wool, linen, hemp, etc.) that have reached the end of their life can be used in worm farms and/ or composted at home.
If the clothing is clean consider the recycling options listed above.
As a very last resort, dirty, stained, and unusable clothing can be sent to landfill.