Plastic Free July (PFJ) Aotearoa 2021 is in its final official year. PFJ Aotearoa is being delivered as part of the final year of Rethinking Rubbish and Recycling (a Waste Minimisation Fund project). PFJ Aotearoa is supported by councils and community groups and is driven by a working group made up of both. The theme for this year's PFJ Aotearoa is proposed to be "In Aotearoa we choose to reuse". The focus is on getting people to choose reusable over single use packaging in the home.
Rethink & Reuse, be creative with ways to avoid and reduce single use soft plastic like Cling film. Make a simple swap to a bees wax wrap rather than purchasing cling film which contaminates our recycling and is not recyclable kerbside. 
Plastic Free July Event - New Plymouth - Puke Ariki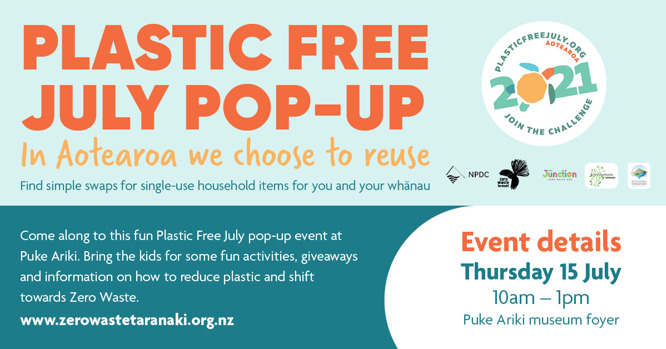 Thursday 15 July @ Puke Ariki we will be holding a community event with number of partners to promote reuse around the Taranaki region. Stalls will be set up in the Museum foyer  10am - 1pm with information and local products showing you ways you can make a difference at home with a simple swap. Moving away from single use plastic products means you can make a difference.  Bring the family with you as it is a school holiday event with fun activities and giveaways for all.
Stalls and information presented by:
Your zero waste hub the Junction and WISE
Sustainable Taranaki 
Enviroschools
Our NPDC Zero Waste Team - 'wonder women'
Artist Lorella Doherty
Local retailer Down to Earth
Community group Para Kore
Further information:
relevant videos:
Bring it! Our reusable cup campaign with NPDC and local cafes - Get on board!