It's an exciting time for coffee drinkers, with some Taranaki cafes re-opening for take away coffees from Covid Alert Level 3. But what does Level 3 mean for reusable coffee cups? Can environmental and hygiene concerns co-exist? The good news is yes!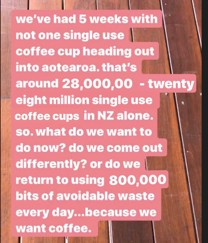 An estimated 295 million single use coffee cups are usually used each year in New Zealand. These cannot be recycled, so end up in landfill, or contaminate recycling, creating more work for staff at Taranaki's recycling sorting facility.
A growing number of cafes and coffee drinkers are taking steps to change this trend, using reusable coffee cups or loaned reusable cups.
How can we build on this as we recover from Covid and get back to good Zero Waste habits?
Reusable cups in Level 3
Before lockdown, some cafes became cautious about accepting reusable coffee cups due to fears around handling customers' cups.
However on 30 April the Ministry of Health confirmed that reusable cups are allowed to be used at cafes, as long as contactless pick up requirements can be met. On 3 May they expanded on their advice:
"Allowing customers to use reusable cups and containers is up to individual businesses, so long as food safety risks are managed. This applies to all reusable containers, including personal keep cups, in-house reusable coffee cup schemes used by coffee shops, and 'bring your own container' schemes operated by supermarkets.
The best ways of staying safe and healthy and also protecting the wider community remain the same: physical distancing, cough and sneeze etiquette, washing hands and more importantly being alert to signs of being unwell and acting appropriately if you are. It's also important not to congregate unnecessarily outside cafes or other food outlets while waiting for contactless service under Level 3."
Contactless coffee in a reusable cup: a quick guide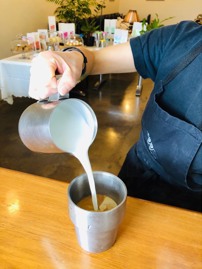 The Ministry of Health hasn't provided specific advice about contactless methods for filling reusable cups. So some cafes are bringing Kiwi ingenuity to the fore, as shown in this fun video from Big Fig Cafe in Wanaka.
Here's simple steps on how to use this method, set out by Takeaway Throwaways.
Cafes need a washable tray and two jugs to pour coffee and then frothed milk into your open reusable cup, and then a table, desk or window counter to bring the tray to.
So far, we know you can use this system at Empire Tea & Coffee, Escape Coffee Roasters and The Department. Head along and support them if you're after a coffee fix!
Before heading to a café:
You can check in with the café via social media or phone on whether they are able to fill your reusable cup in a contactless method (see below for some tips for the conversation). Ask how they would like you to order – some cafes such as Petit Paris are offering a pre-paid tab, or you can pay online via apps such as Regulr to avoid eftpos or cash handling.
Clean your reusable cup, including the outside. You might want to put it inside a clean carry pouch or bag for the journey.
Order: If your café isn't too busy, order your coffee in person from a safe distance outside the café, and ask them if they can fill your reusable cup, mentioning your prior conversation if needed. Or order your coffee via text or phone, online, or through an app such as Regulr. Make sure you specify that you'd like to have your clean reusable cup filled, to avoid your coffee being pre-made in a take away cup before you get there!
At the café:
Make sure you keep at least a 2 metre distance from others while waiting.
Take the lid off your cup and keep hold of it (if you use one).
When there's space for you to step forward, place your cup on a tray, table or window counter, as requested.
Step back.
The barista will prepare your coffee shot and milk (if you have it) in two jugs and then pour them into your cup without touching it.
When your coffee is ready, the barista will step back and let you know that it's ready.
Step forward, get your coffee, and thank them for being a great champion of the reuse revolution!
Encouraging reusable cups in Level 3
Get in touch with your favourite re-opened café via social media, check in on how they're going, and tell them how happy you are to see them back in Level 3.
Check in on their plans for accepting reusable cups, and that you're keen to use your cup when they have a contactless system in place. If they don't have a system set up yet, you could send them Big Fig Cafe's video, this blog, or a few ideas for contactless methods: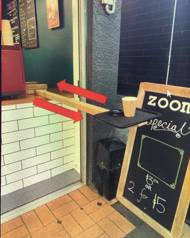 A tray for you to put your cup on, so the tray can be carried closer to the coffee machine and filled with two jugs.
A paddle or board for your cup to be collected and then passed back to you on. Escape Coffee even use a skateboard!
A table or desk that a barrista can carry jugs to, to pour straight into your reusable cup.
Loaned reusable cup systems such as Again Again have also been cleared for use by the Ministry of Health. Read more here, and on their drop off sterilization system.
We'd love to hear what other creative ideas cafes are coming up with, and of which Taranaki cafes have contactless systems in place to fill reusable cups. Please get in touch with Kati Freeman at kati.freeman@npdc.govt.nz.