'Think Before You Buy'
When & Where: 16th, 17th and 18th of April @ The TSB Stadium, New Plymouth (at the Race course).
CLICK HERE for more details.
Visit our exhibit 35 at Waste and Water to find out more about 'being a conscious consumer'.
The survey of 1,260 people showed that 63% are concerned about reducing the amount of packaging they buy. 
Populus research commissioned by Higginson PR on behalf of A Plastic Planet4, showed that 91% of the UK public supported the idea of having an entire aisle dedicated to the sale of products free of plastic packaging (Ref www.wrap.org.uk).
The 16th 17th and 18th April we will be exhibiting 'Simple Swaps'. Reusable products that can replace single use items. By eliminating single use consumable items like plastic veggie bags, plastic wrap and other supermarket products from going to landfill we can change and reshape the way we live to be more sustainable. We support a circular economy and encourage residents to divert waste from landfill. Make a commitment to reduce, reuse and recycle.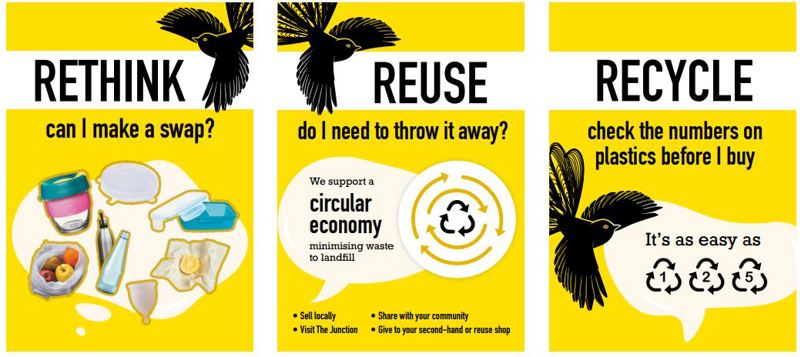 'Bring it' - Again Again' 
Are you a coffee drinker?
We're running a campaign called Bring It to help coffee drinkers develop a second good habit with their coffee – using a reusable coffee cup.
Takeaway coffee and drink cups aren't recyclable. And compostable cups need to go to a commercial composting facility to break down.
So using a reusable cup is the best option for enjoying good coffee. It's a practical day-to-day way we can all help cut the estimated three million takeaway coffees cups used in Taranaki every year.
Using a reusable coffee cup every day is really easy, with the recent introduction of the Again Again cup share system in the New Plymouth District. Seven leading cafes are the first to offer Again Again cups, which can be borrowed for a refundable $3 deposit, and then swapped for a free clean cup at participating cafes.
46 cafes also provide a discount of between 20 cents and $1 on coffee when you bring your own clean reusable cup. So it pays to get in the Bring It habit and start saving on your coffee bill!
Again Again map
Here's where you can borrow an Again Again cup (Bleached, Chaos, Elixir, Escape, Ozone, Pekaren - Bell Block, and Tea House on the Lake - Pukekura Park).
At these cafes you borrow one of these stainless steel cups for a one-off bond of $3.
Next time, bring the used cup back to any participating cafe and swap it for a free fresh cup, paying only for your coffee. Or get a refund of $3 on collected cups at any point.
You don't need to clean the cup – just empty it before you return it, and the café will clean it with their commercial dishwasher and add it back into the stack of cups that can be borrowed.
To find out more CLICK HERE