Are you interested in waste free food and parenting workshops at a subsidised community rate? If the answer is yes! then sign up following the links below.
Tickets are limited. If you have any questions follow the link to the website link below for FAQ.
Tickets are $19, and thanks to NPDC you get an awesome waste minimisation toolkit worth $120. You can bring a partner or friend for free too, just select the Couples ticket.

Website: www.katemeads.co.nz
Food Lovers Masterclass:
I'll show attendees all about the food waste issue in NZ, how to reduce their impact, and what products and solutions can really help! It's perfect for any household - as the subject and solutions covered are relevant for us all! Learn about smarter shopping, storage, cooking and more.


Monday March 1st, New Plymouth District Council Chambers, 6:30pm- 8:30pm
Eventfinda: CLICK HERE
Facebook: CLICK HERE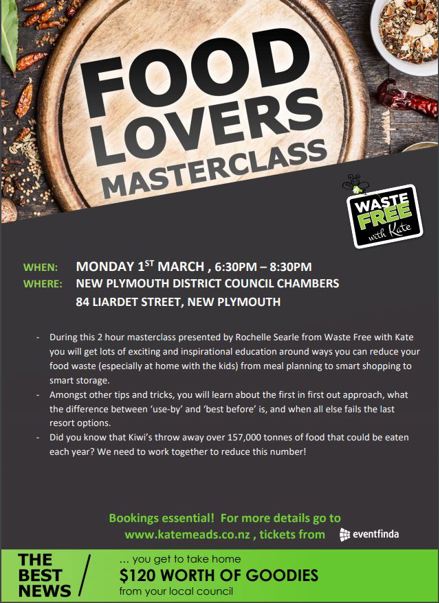 Waste Free Parenting:
Great for those with babies, toddlers, or those expecting - as you'll learn about cloth nappies, DIY baby food, and much more! Low waste parenting products can save you a fortune, and are far better for the environment.
Thursday March 4th, New Plymouth District Council Chambers, 10am- 12pm
Eventfinda: CLICK  HERE
Facebook: CLICK HERE