The Covid-19 pandemic is boosting many people's interest in growing some of their own veges as a way to boost health and resilience, as well as reducing how often we need to go to the supermarket.
Learning to grow from seed is a great activity to do with kids. As well as counting seeds, kids can learn about the conditions needed for germination, such as light, warmth and moist soil (tick biology/science learning!). It's also a good change to watch and care for their seeds over a few weeks, giving them a spray or light water every few days.
Where can I buy seeds from?
With garden centres still shut and seedlings hard to come by, it's a great time to learn to grow veges from seed.
Seed providers who are still open for online orders and contactless delivery are listed on the Feeding Our Roots in Aotearoa Facebook page.
You can also learn how to save seeds from existing plants in this video from Seedsavers Taranaki.
How can I sow seeds using what I have at home?
If you don't have seed raising mix, use good soil from your property, but sieve or rub the soil between your hands beforehand to break up any clumps that might stop your seeds from germinating.
If you don't have seed punnets or trays in your shed to reuse, you can grow seeds in common recyclables such as toilet paper rolls, egg cartons, or even inside some food scraps such as egg shells. See below for links to learn more.
The benefit of using biodegradable items such as paper and cardboard is once your seeds have grown into larger seedlings, you can plant the toilet paper tube or egg carton section straight into the soil - it will break down as the roots grow!
Egg cartons. Once your seedlings are big enough, just rip off each egg cup and plant it directly into a hole in your garden, as shown in this simple video.
Newspaper or toilet paper rolls. Watch this video for easy instructions on how to roll and fold newspaper into a planting tube, or cut and fold toilet rolls so they hold soil.
Avocado skin halves or eggshells. See this video for more.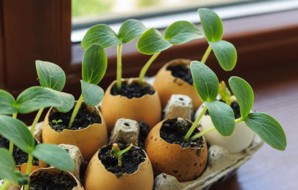 We'd love to see what you and your whānau try!
Email a photo of your seedlings to zerowasteevents@npdc.govt.nz and we'll select a few to send a Zero Waste prize out to once we shift to Level 2.